UPDATED: January 2020
Liberty Bib Overalls, which is made by the Walls company, continues to make one of the best bib overall on the marked. As the new year of 2020 starts, you can find some great deals on the men's Liberty bib overalls. Just click the button below to look through the different Liberty overalls available with great prices and free shipping on most overalls. Also, if you are looking for some replacements for the strap hooks, then Click Here for more information.
I can remember watching the Hee Haw TV show back in the 1980's when I was a kid. The one thing that I remember very well about that TV show was the Liberty bib overalls that they wore on the show.
You can always tell that they are Liberty overalls by the green zipper on top of the bib. The Liberty overalls were just as much a part of that show as the actors who played in it were.
Back in the 1970's and 80's you could find a pair of Liberty overalls at many clothing stores in the south. Today it is hard to find these overalls. There are few stores that stock them, but they might not stock the size you are looking for. So you might be wondering who makes Liberty bib overalls these days.
Who Makes Liberty Bib Overalls
Liberty overalls were made in Birmingham, Alabama for many years and were made by the Liberty company. Back then they made overalls, jeans, coats, jacket, etc. Then in the 1990's Liberty was bought by the Walls company out of Dallas Texas.
So who makes Liberty bib overalls now. Well in 2013 Williamson-Dickie Mfg. Co, better known as just Dickies, bought the Walls company. So as of 2013, Dickies is the manufacture of Liberty overalls. Dickies has been making work clothing for many years and with adding the Liberty brand only adds to their already great line of quality products.
Different Types Of Liberty Bib Overalls
In the past, the Liberty brand made many different clothing products from jeans, pants, jackets, coats, shirts, etc. But now they only make bib overalls. They make men's overalls and youth overalls.
Men's Liberty Rigid Denim Bib Overalls
Liberty's most popular overalls is there men's rigid denim bib overall. These overalls have not be washed so it will be a little stiff at first, but once you start washing and wearing it will feel just right. Below is an image of the rigid denim overall.
Men's Liberty Stonewashed Denim Bib Overalls
The Liberty stonewashed overalls have a soft comfortable feel right from the start. If you don't like that stiff feeling from a new pair of rigid denim overalls, then these stonewashed overalls would be great for you. Below is an image of the Liberty men's stonewashed bib overall.
Men's Liberty Brown Duck Bib Overalls
In 2017 Liberty brought back the men's brown duck bib overall. These overalls where very popular and I am glad they brought them back. These are made of durable cotton duck with all of the great features as the regular Liberty overall. Below is the image of the Liberty brown duck overall.
Liberty Men's Americana Duck Bib Overalls
Check out these brand new USA Americana Duck Bib overalls by Liberty. Show that your a true American with these USA bib overalls with the signature green zipper. These is a limited supply of these Liberty Americana bib overalls so get them while you can.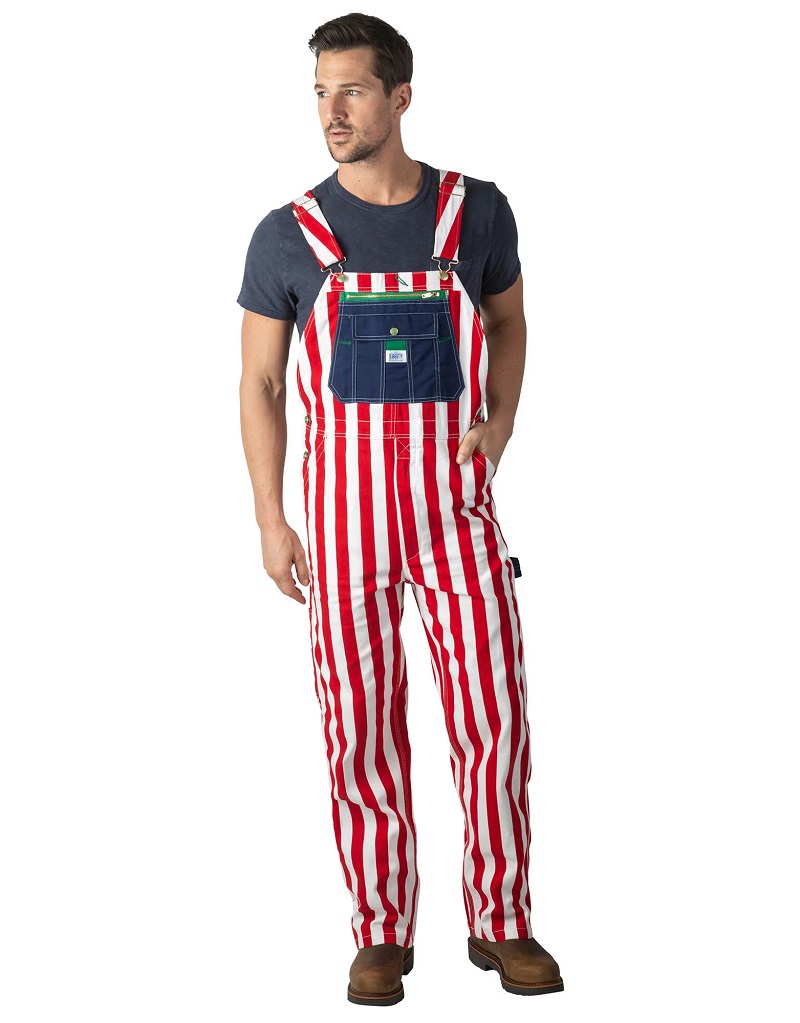 Men's Liberty Hi-Vis Reflective Bib Overalls
If you are in a work environment that you need reflective clothing, but don't want to give up your Liberty overalls, then you don't need to worry. Liberty makes a Hi-Vis reflective overall just for you. You can get in both Hi-Vis Orange and Yellow. Below is an image of the orange reflective overall.
Men's Big & Tall Liberty Bib Overalls
Liberty makes their overall for everyone in different sizes. You can get the overalls up through size 66. To purchase sizes from 50-56 Click Here. To purchase sizes from 58-66 Click Here. Below is an image of the big & tall Liberty overall.
Youth Boys & Infant Baby Liberty Denim Bib Overalls
You can also get Liberty overalls for your kids and grand kids. These make perfect gift for a birthday or Christmas. The smallest size they make is a 6 month overall. This 6 month overall makes a great gift for your new born grandchild. To purchase the youth overalls sizes 8-20 Click Here. To purchase the boys sizes 3-7 Click Here. To purchase the infant baby sizes 6-month through 24-month Click Here. Below is a image of the Liberty infant baby overalls.

Liberty Women's Overalls & More That Are Not Made Anymore
As I mentioned above the Liberty Brand use to make a lot of different products from jeans, pants, coats, jackets, shirts, etc. As of 2018 they do not make any jeans, pants, coats, jacket, and shirts. They current only makes bib overalls. Below is some of the overalls that they don't make anymore.
Lady Liberty Women's Bib Overalls
Liberty has released a new line of Lady Liberty Women's bib overalls for the 2020 season. The Lady Liberty bibs are available in two different styles washed denim and duck. The washed denim comes in stonewashed indigo and light stone washed. The duck bibs comes in brown duck and frosted sage. Click Here for more info, price, and how to purchase these new Lady Liberty bib overalls.
Men's Liberty Low Back Bib Overalls
You don't see many people wearing low back overalls any more. But low back overalls had a open back with a suspender type attachment to hold up the overalls. Liberty stopped make the low back overalls many years ago. But you can still find the low back overalls from other brands. Pointer Brand overalls makes a low back overall and you can purchase them here. Also, Round House still makes a low back overall and you can purchase them here.
Men's Liberty Camo Bib Overalls
These where a favorite of many people who liked to wear camo. These had the same zipper on the bibs. Liberty stopped making these camo overalls a few years ago.
Finding Cheap Best Price On Liberty Overalls
There are many different places to find Liberty overalls online and you can still find them in some Walmart stores and Tractor Supply Stores in your area. The best way to get a cheap or discounted price is to look for sales. Most store online will put them on sale certain times of the year.
If you signup for our newsletter, we will notify you of when certain stores place their Liberty overalls on sale. Our newsletter also gives you information about working clothing products and other deals and sales that you can find online. Click Here to signup for our newsletter.
How To Size Liberty Overalls With Size Chart
This is a question many people ask if they have never wore a pair of overalls. The first thing to know is that you don't get your pants size. Remember that a the bib part of the overall will go over the fullest part of your stomach. The general rule of thumb is that you go 1-2 sizes above what you normally wear in a pant. For example, if you wear a 36×30 in a pant, then you would get a 38×30 or 40×30 in a overall.