Liberty Men's Stonewashed Denim Bib Overalls With Green Zipper.
Great prices and Free Shipping Offer.
These Bib Overalls Are Very Comfy!
Product Details
Liberty Overalls have been around for over 100 years!
If you prefer a slightly worn and soft feel, then the Liberty® stonewashed denim bib overalls will be right for you!
These stonewashed bib overalls are cut from the same iconic pattern in production since 1912 and washed for comfort.
Liberty® denim bib overalls are durable, adjustable and versatile to tackle whatever is on your work list to do.
The Signature Liberty® Green accents highlight their patented 5-piece bib pocket with durable zippered pouch!
These would be great for keeping your phone safe!
Their are other functional features include their classic triple-needle stitching throughout to reduce blowouts and provide longer durability!
They have adjustable bib straps, front and back pockets with additional utility pockets, and a twisted hammer loop.
Bartacks reinforce the typical stress points, further strengthening the durable 11.5oz. 100% Cotton stonewashed denim material.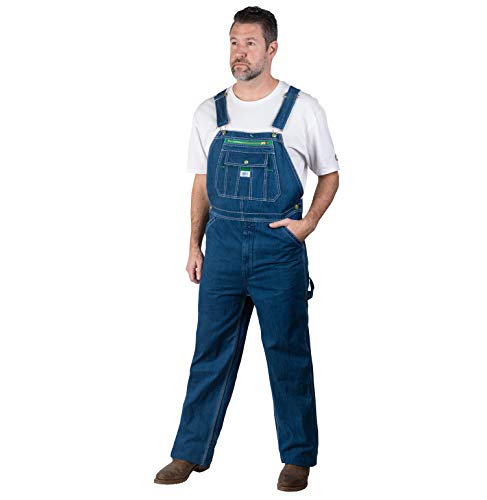 Features – Liberty Stonewashed Bib Overalls
Liberty Men's Stonewashed Denim Bib Overalls
Imported
100% Cotton
Soft & Comfortable
Machine Wash
Shell constructed of 11.5 ounce stonewashed denim
Adjustable bib straps
Reinforced bartacks at stress points for added strength
Classic triple needle stitching for durability
Signature liberty green accents
Check out the prices for each size below. To purchase that size from Amazon just click on the button for that size.
Free Shipping On Orders Of $25 Or More!
Be sure to check out The Liberty Men's Rigid Denim Bib Overalls!
Check out the different Liberty products available below!
CLICK Here for the best prices on Liberty Bib Overalls!
If you have never tried wearing Liberty Bib Overalls, then you will be pleasantly surprised!
Once you start wearing these bib overalls you will notice how comfortable they are when you wear them everyday!
For more information on Liberty Overalls, check out our post on Who Makes Liberty Bib Overalls!