Check out these classic Liberty Men's Rigid Denim Bib Overalls. The overall that your dad and grandfather wore. Great Prices & Free Shipping Offer.
The original rigid denim Liberty bib overall since 1912.
Liberty denim overalls are durable, adjustable and versatile to tackle whatever is on your to-do list.
Signature Liberty Green accents are reflected in their patented 5-piece bib pocket with a durable zippered pouch and snapping flap pocket. This would be a great place to keep your cell phone.
Other functional features include their classic triple-needle stitching throughout to reduce blowouts.
They also provide longer durability, adjustable bib straps, front and back pockets with additional utility pockets, and a twisted hammer loop.
Bar-tacks reinforce the typical stress points, further strengthening the durable 11.5oz. 100% Cotton denim material.
Features – Liberty Men's Rigid Denim Bib Overalls
100% Cotton
Imported
Machine Wash
Signature Liberty green accents
Adjustable bib straps
Reinforced at stress points for added strength and classic triple-needle stitching for durability
Zip fly
5-Piece pocket with zip closure and flap closure pocket entry, two front wing pockets, two patch hip pockets, ruler and pliers pockets, and twisted hammer loop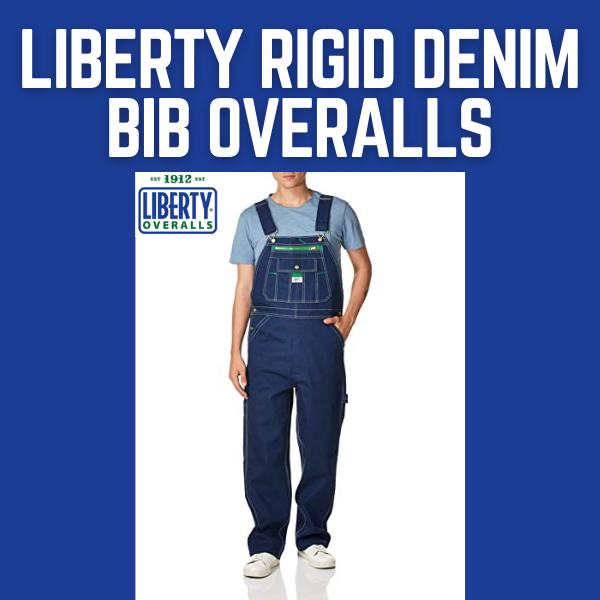 Free Shipping On Orders Of $25 Or More!
These Liberty Overalls are very popular in the south. I worked in a clothing store back in the 1990s. I would sell these bib overalls all the time, especially for Birthdays, Father's Day, and Christmas.
One customer said, "I would not wear any other brand. They are so roomy and very comfortable while working a full day's work."
I can remember watching the Hee Haw TV show back in the 1980's when I was a kid. The one thing that I remember very well about that TV show was the Liberty bib overalls that they wore on the show.
You can always tell that they are Liberty overalls by the green zipper on top of the bib. The Liberty overalls were just as much a part of that show as the actors who played in it were.
Back in the 1970s and 80s, you could find a pair of Liberty overalls at many clothing stores in the south.
Check out our article on Who Makes Liberty Bib Overalls!
To learn more about bib overalls, Check out the History Of Overalls!