Round House Denim Bib Overalls Are Made In The USA! These denim overalls are the classic #980 with a zipper fly!
Round House was established in 1903! They are located in Shawnee, Oklahoma!
For more information on the history of Round House Overalls in Shawnee, Oklahoma, Click Here to read the article on 112 Years Of Making Jeans, Overalls In Shawnee.
Round House Denim Bib Overalls – Style #980 Classic With Zipper Fly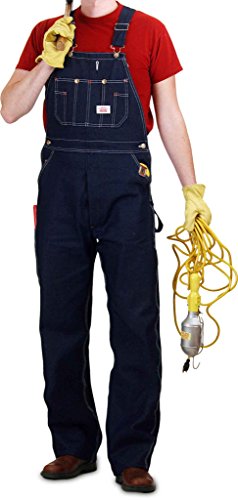 Description:
These overalls are Round House Classic Denim Bib Overalls. These have a zipper fly, the original has a button fly.
The #980 Round House Denim Bib Overalls have not been washed. Because of this they will be a little stiff at first.
Once you start to wear and wash these bib overalls they will begin to loosen up.
These are the durable overalls generations of hardworking craftsmen, carpenters, builders, laborers, farmers, ranchers, and just good old-fashioned Americans wear.
Each pair bear the Round House logo with the words "Made in the USA" on the back so you can wear them with pride!
They have a 5-in-1 bib pocket and a zipper fly.
These overalls have a heavy-weight 100% cotton pre-shrunk denim.
It also has a hammer loop and a rule plus pliers pocket.
There is also a place to put your cell phone.
If you are looking for Made In The USA products, then this overall is just for you.
Features:
Denim
Similar to the #966 Button Fly style but with a Zipper Fly, these are the durable overalls generations of hardworking craftsmen, carpenters, builders, laborers, farmers, ranchers, and just your old fashioned real Americans have worn and continue to wear
With the back bearing Round House's logo and the words "Made in USA" these overalls make a statement of the owner's values
They have a 5-in-1 bib pocket
Zipper Fly
Heavy-weight 100% cotton pre-shrunk denim
Hammer loop
Rule plus pliers and cell phone pocket
---